---
---
They create this contemporary design:
---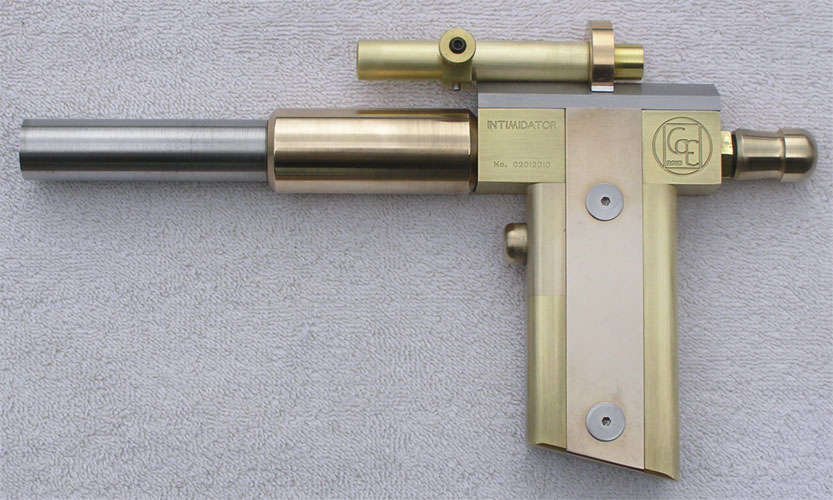 The INTIMIDATOR PUZZLE PISTOL (with laser sight)
---
The INTIMIDATOR PUZZLE PISTOL is is a single shot 45 caliber muzzle loading pistol; a unique offering for personal self defense.

As a young man, I was impressed by the unusual gun used by Scaramanga in the 1974 Bond thriller "The Man with the Golden Gun". Recently, I thought I'd like to design my own. The INTIMIDATOR Puzzle Pistol was originally planned to be a conventional 25 Caliber pistol but as my ideas morphed, it became a muzzle loading and more intimidating 45 caliber.

The sculpture includes everything required for assembly of the puzzle pistol. Integrated into the sculpture are a customized set of tools, all necessary hardware, 45 caliber bullets, a standard sight, a laser sight, a cannister containing black powder pellets, a secure storage area for 209 shotgun primers, a spent primer removal tool and a ramrod for loading the bullets.
---
Made from: Brass, Stainless Steel, Aluminum, Bronze, Magnesium and Steel
---
One INTIMIDATOR #02012010 has been produced so far and is part of my personal collection.
---
Orders can be filled with a projected 24 month delivery; production and shipping is subject to government restrictions. For more information

Best Regards,
GarE Maxton
---
---