Conundrum III is made from more different metals
than any metal sculpture on earth; the list includes:
Brass, pewter, white brass, bearing bronze, silicon bronze,
aluminum bronze, steel, stainless steel, cast iron, aluminum,
magnesium, titanium, tungsten carbide, monel, copper,
oxygen free hard copper, neodymium iron boron, zinc, inconel
and a precious metal (either silver or gold).
---
---
FALL 2004

Hi,

I'm releasing my newest puzzle sculpture called Conundrum III. I spent almost an entire year making 10 of these. If you already happen to own one of my sculptures, you may consider my trade up program to acquire this beauty! Conundrum III is a 3" metal cube composed of 54 interlocking pieces made from 20 different metals plus a special key. The puzzle is both very difficult to assemble and very difficult to solve how the special key unlocks the sculpture. There are sliding tungsten rectangles hidden inside the sculpture to further confuse the issue when the puzzle is tilted while held. They are functional but I can't disclose the secret of what they do.
---
Conundrum III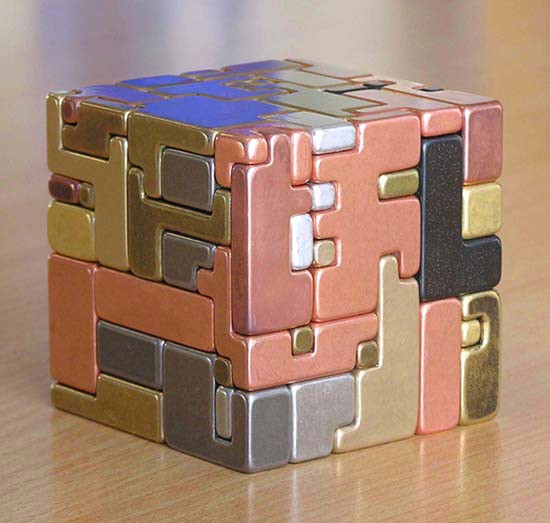 Conundrum III - Puzzle Sculpture (Signed and Numbered)
55 pieces including magnetic key

$8495.00
It takes 4 weeks to
complete the patina
| | | |
| --- | --- | --- |
| Optional Additional Central Cube - with Conundrum III Order Only | $175.00 | Immediate |
| | | |
| --- | --- | --- |
| 3 Prong Wooden Stand - Only Available with Conundrum Series and Symmetry I Orders | $25.00 | Immediate |
Optional Ring - for unlocking Conundrum III
(in addition to the standard magnetic key)

$150.00
Please email gmaxton@maxton.com
your ring inside diameter/size,
4 weeks for delivery
For Packaging, Shipping and Insurance:
add 3% anywhere in the continental United States OR add 4% to Canada, Alaska or Hawaii OR add 5% to EU, Japan, China, Australia and New Zealand. Elsewhere; E-mail gmaxton@maxton.com for actual packaging, shipping and insurance fees.
---
Conundrum III offers the same satisfying size and appearance as its predecessors, but requires a patron with a much greater patience and tenacity for problem solving. When fully assembled, Conundrum III forms a 3" metal cube weighing 8.5 pounds! This is a limited edition; each sculpture is dated and numbered. A certificate of authenticity is included with each sculpture. Conundrum III comes ready to assemble or disassemble!
Although, not my largest sculpture, taking apart Conundrum III has generated more interest at parties given in our Ann Arbor home than my other works. I think it's having a mystery key.....everyone wants to try to figure it out! I spent the last 10 months completing the unique locking design after meeting with two Ohio based puzzle collectors last Fall.
It's a beautiful showpiece, too and a lot of fun!
---
Conundrum III- All 54 elements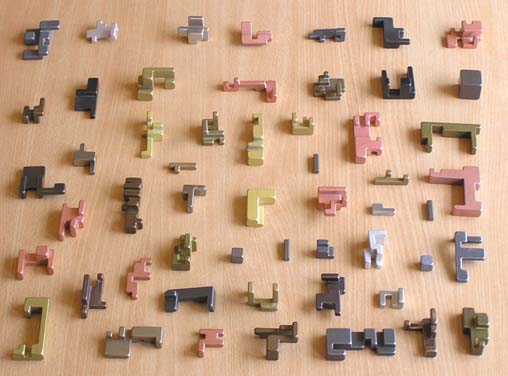 Pleasingly rounded edges allow pleasant contact with each of the 54 pieces in 52 unique random geometric metal shapes shown above. The puzzle as shown is to assemble these colorful pieces into a 3" metal cube.
(Click on photo above for close-up view)
---
It's much harder to assemble than it is to disassemble Conundrum III. If you use the photographs provided here, they provide some clues for the assembly process. Unfortunately, there are no clues on the disassembly process.
Regards,
GarE Maxton
---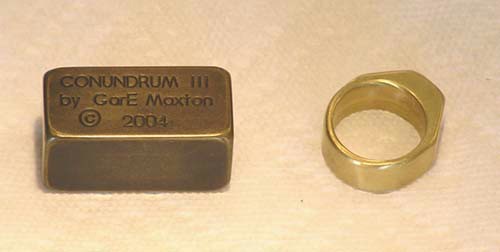 How can these unlock the assembled 3" puzzle cube?
---
VIRTUALLY IMPOSSIBLE TO ASSEMBLE! -without using a photograph.

NEARLY IMPOSSIBLE TO OPEN AS WELL! -the photographs don't help with this.
---
Conundrum III was very difficult to produce..................I didn't realize it would take over 10 months to make 10 sculptures.
The Conundrum III Details - Detailed images of each piece showing all 20 metals (takes a while to load)
The Conundrum III

by GarE Maxton - Copyright 2004
Conundrum III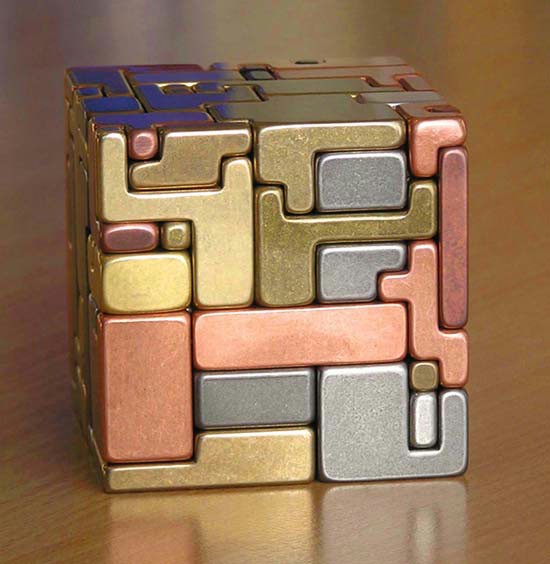 Conundrum III & central cubes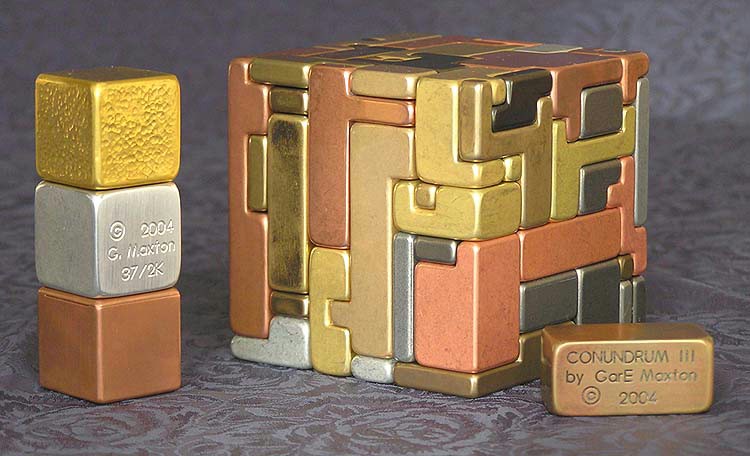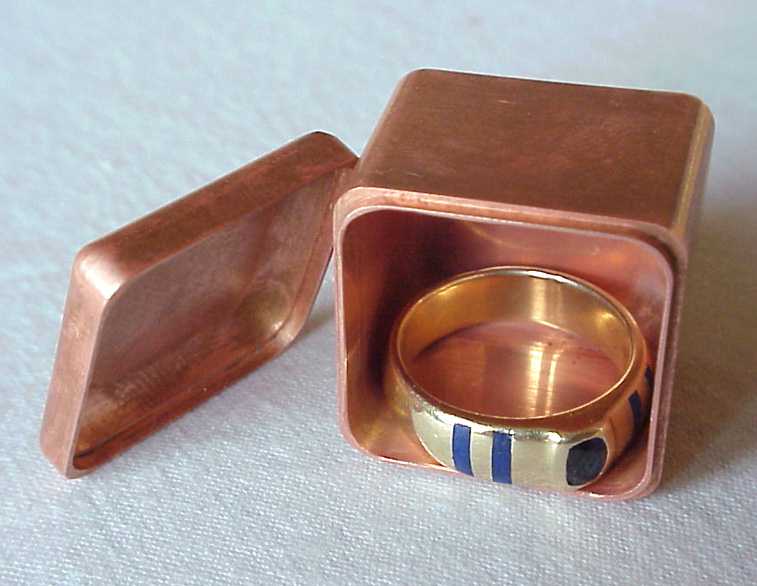 Using this 1" copper box in the puzzle
instead of my trademark 1" silver cube,
Conundrum III can become a secret hiding place for something small.
---
You are Visitor Number:


Web count provided by www.digits.net
---