Spring, 2003
Welcome,

I was impressed by the opening process associated with a Japanese Puzzle Box I saw recently so I thought I would make a functional metal treasure chest along the same line of thought. This sculpture has two main facets; like its Japanese counterpart, the fully assembled strong box makes an intriguing puzzle where the challenge is to open it and remove the top by sliding the various metal panels into the proper position....... but I went a little farther; if you have the courage, this sculpture can be broken down (only after the top is removed) into a very complicated set of 42 interlocking pieces...........it makes a very difficult assembly project........
The Labyrinth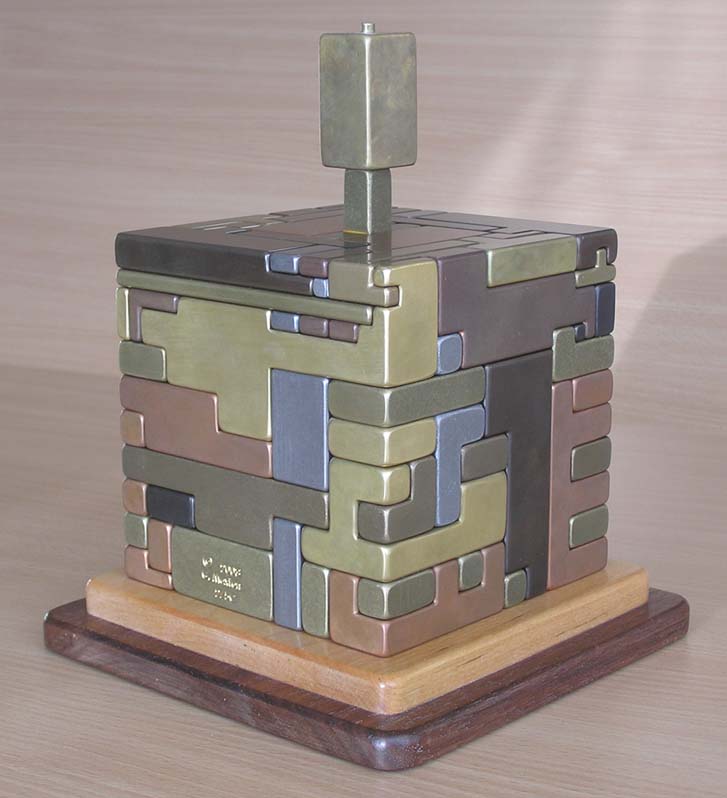 Labyrinth
---
| | | |
| --- | --- | --- |
| Labyrinth -Puzzle Sculpture (Signed and Numbered) | SOLD OUT! | No Longer Available |
---
When fully assembled, this sculpture forms a beautiful five inch cube (plus the handle) with labyrinthian lines. It weighs around 30+ pounds depending on the combination of various metals used to make the pieces. With the top removed there is a storage space inside (3" x 3" x 3") which is suitable for easily holding a substantial hoard of gold and silver bullion. Smaller items can be stored on the 2 piece storage platform.
There is a sequence of sliding metal panels that must be discovered to correctly open this safe!
---
---
You areVisitor Number:


Webcount provided by www.digits.net